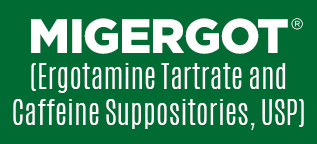 Ergotamine Tartrate and Caffeine is indicated as therapy to abort or prevent vascular headache, e.g., migraine, migraine variants or so-called "histaminic cephalalgia".
Many migraine patients experience excessive nausea and vomiting during attacks, making it difficult to take any oral medication. In these cases, taking a medicine rectally may be an effective way to get relief.
Migergot® is a medicine for migraine that utilizes this alternate delivery approach for preventing and treating migraines. The medication is administered rectally, which can be beneficial for patients with nausea and vomiting symptoms.

Rare cases of a solitary rectal or anal ulcer have occurred from abuse of ergotamine suppositories usually in higher than recommended doses or with continual use at the recommended dose for many years. Spontaneous healing occurs within usually 4-8 weeks after drug withdrawal.

Migergot® contains ergotamine tartrate and caffeine which are medicines that cause narrowing of the blood vessels in the brain.
Patients should take Migergot® as indicated by their healthcare professional.
Migergot® is only available in the United States with a prescription from a healthcare professional. Ask your doctor if Migergot® is right for you.
Migergot® should be kept refrigerated (36° to 46°F).
Serious and/or life-threatening peripheral ischemia has been associated with the coadministration of ergotamine tartrate and caffeine with potent CYP 3A4 inhibitors including protease inhibitors and macrolide antibiotics. Because CYP 3A4 inhibition elevates the serum levels of ergotamine tartrate and caffeine, the risk for vasospasm leading to cerebral ischemia and/or ischemia of the extremities is increased. Hence, concomitant use of these medications is contraindicated.
Do not take Migergot® (Ergotamine Tartrate and Caffeine Suppository, USP) if you:
Are taking certain anti-HIV medications known as protease inhibitors such as ritonavir, nelfinavir or indinavir
Are taking a macrolide antibiotic such as erythromycin, clarithromycin or troleandomycin
Are taking anti-fungal medications such as ketoconazole or itraconazole
Have high blood pressure or if you have any disease affecting your heart, arteries, or blood circulation
Have liver or kidney disease
You are pregnant or may become pregnant
Are allergic to any of the ingredients in MIGERGOT®
How to take Migergot® (Ergotamine Tartrate and Caffeine Suppository, USP):
MIGERGOT® is a rectal suppository. Do not take MIGERGOT® orally.
One suppository of MIGERGOT® should be taken at the first sign of a migraine attack. If you do not experience relief from the first dose, a second dose may be taken no sooner than 60 minutes after the first dose.
The use of MIGERGOT® should not exceed dosing guidelines and should not be used on a daily basis.

Do not take more than 2 suppositories for any single migraine attack.
Do not take more than 5 suppositories during any 7-day period.
Contact your doctor immediately if you experience:
Numbness or tingling in the fingers or toes
Muscle pain in the arms and legs
Weakness in the legs
Chest pain
Temporary speeding or slowing of the heart rate
Swelling or itching
Other side effects of MIGERGOT® (Ergotamine Tartrate and Caffeine Suppository, USP) may include nausea and vomiting, rectal or anal ulcer (from overuse of suppositories), sensation of tingling or limbs "falling asleep", numbness, weakness, dizziness, swelling and itching. This is not a complete list of all possible side effects. Tell your healthcare provider if you have any side effect that bothers you or that does not go away.
This is the most important information to know about MIGERGOT®. Ask your healthcare professional if you have any questions or want more information.
Please see the Prescribing Information, including Boxed Warning, for more information.
You are encouraged to report negative side effects of prescription drugs to the FDA.
Visit www.fda.gov/medwatch or call 1-800-FDA-1088.